Y6 SATS 2023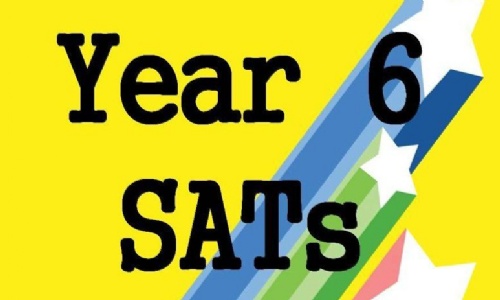 Dear parent/guardian,
As you may be aware, the KS2 national testing week is approaching. These are a series of standardised tests that all children across the country will sit aimed at testing their learning progress.
The children have been working hard towards these tests all year and are preparing well for them. All children are expected to sit all of the test papers and subjects unless they are exempt (all parents/guardians will be made aware if an exemption applies to their child.)
Test week:
All tests will be happening within the school day. The children need to be in school promptly at 8.45 and will leave school as normal at 3.00. Details about timings of each day will be shared closer to the time.
Things to do at home:
Preparation for the SATs is taking place in school however, practising times tables, completing homework and reading regularly are all excellent ways to help your child. Some parents wish to purchase Y6 revision guides, and the CGP guides are a very good resource. As we are a school, we are able to purchase CGP revision guides at a reduced cost. A set of 3 revision guides (which is Maths book, Spelling, Grammar & Punctuation book and Reading Comprehension book) can be purchased through School Money at £7.25 (RRP £14.00). The deadline for ordering is 30th January and regrettably we will be unable to process late payments. However, purchasing revision guides is completely optional.
Please ensure you have completed the google form here and given payment on School Money by 30th January.
The children have been preparing for the SATs all year and are working hard – it is nothing for them to worry about. It is just an opportunity for them to show off what they can do. All we expect is that they try their best. We would very much appreciate you echoing this message at home.
How the tests work:
The children will be taking the tests in school and may be taking the test in their classroom or another room within school. They will work independently but in some tests may be able to have questions read to them.
Some children may qualify for extra time or other support for the tests, however, there is strict criteria for this and all children will be given the resources or support that is appropriate for them.
Getting results:
Throughout the year, children have been completing practice papers and have had opportunities to ask questions that they might have about either the tests or how scaled scores are calculated.
Tests are developed to the same specification each year. However, because the questions must be different, the difficulty of tests may vary. This means the total number of marks a pupil gets in a test is converted into a scaled score. Children can receive a scaled score of between 80 and 120. Pupils scoring at least 100 will have met the expected standard on the test. A pupil awarded a scaled score of 99 or less has not met the expected standard in the test.
At the end of the summer term, along with their report, you will receive the results for:
English grammar, punctuation and spelling

English reading

Mathematics
The children's writing is not assessed by a test. Their teacher will assess their writing and this will be shown on their End of Year Report.
What the papers are like:
They have completed practice papers, completed questions in lessons and become familiar with how each of the tests are completed. If you would like to see some example papers and familiarise yourself, please follow the link below:
If you, or your child, have any questions or concerns about the testing or the testing process, then please pop into school or give us a ring and one of the Y6 team will be happy to speak to you.
Yours sincerely,
C Bruce
Assistant Headteacher