Poppies inspired by Georgia O'Keeffe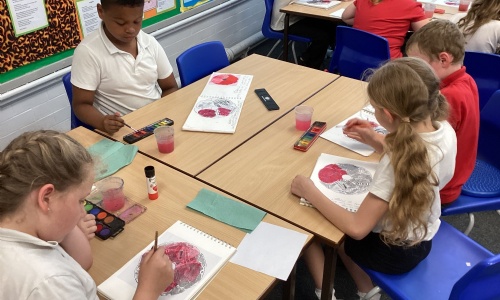 During the Summer term, Y4 have been studying the artist Georgia O'Keeffe whose work on flowers using bold, vibrant colours inspired a whole generation of artists to look at everyday objects with a different prospective.
The study started by looking at some of the most striking pieces of O'Keeffe's work and discussing how she had focussed on part of flowers rather than the whole thing. The children also looked at how O'Keeffe had used bold, vibrant colours to create striking pieces of work.
The children experimented with bold colours when colouring a picture of a flower.
They then sketched their own flowers, working on creating accurate shapes and considering proportion.
The next step was to experiment with different media to see which they would prefer to make their pictures from.
After this, they used newspaper clippings from WWI in order to make a collage of a poppy before finally adding watercolours to it.